CanMEDS and Competency-Based Medical Education: The Role of Technology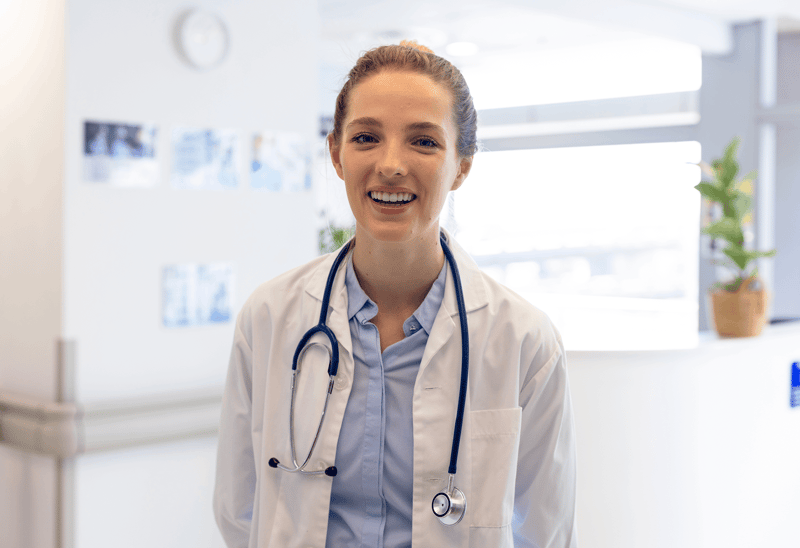 The article you are about to read was published before October 5, 2023, when LGI Healthcare Solutions was still named "Logibec". It is therefore possible that the text or certain images refer to the company's former branding, as well as the former naming of our solutions. Thank you for understanding.
Contrary to popular belief, the evolution of medical education is not about collecting more and more knowledge as new information is learned. Rather, it is about providing a more precise answer to the question: what makes a competent physician?
With this in mind, the Royal College of Physicians and Surgeons of Canada (RCPSC) has developed the CanMEDS framework, which is at the heart of the competency-based approach, or "Competency-Based Medical Education" (CBME). According to the Royal College's timelines, many Canadian medical schools are expected to have implemented the competency-based approach by 2025.
What role does technology play in the challenges of adopting this new medical education framework?
An Increasingly Complex Vision of the Physician Role
When you work in a healthcare or education facility, adding a new information system can seem like adding a new layer of complexity. In the case of the CBME, it is not the technology that adds complexity to the learner's journey, but rather the change in teaching paradigm initiated by the College of Physicians.

Based on extensive empirical research, CanMEDS proposes a vision of the physician that goes beyond the traditional conception of the scholar and the healer. It aims to train medical experts who master the skill set required to excel in these six roles: professional, communicator, scholar, collaborator, health advocate and leader.
History of CanMEDS
1996: First CanMEDS framework approved by the Royal College of Physicians and Surgeons of Canada
2005: CanMEDS 2005 updated and officially adopted as the Royal College Educational Standards
2009: The College of Family Physicians of Canada adapts the CanMEDS framework and adopts CanMEDS-FM
2102: Project initiated to update CanMEDS 2005 and include new topics such as patient safety
2015: Official update of the CanMEDS repository, now called CanMEDS 2015
2017: Formation of the CanMEDS Consortium, which includes 12 Canadian organizations committed to the CanMEDS framework
2017: CanMEDS-FM framework updated by the Family Physician College of Canada to include additional roles

This paradigm shift is driven by the desire to better prepare learners for the increasing amount of responsibility involved in today's transition from residency to medical practice. The role of technology is to facilitate, if not simply enable, the operationalization of this paradigm shift.
Entrustable Professional Activities (EPAS)
With a more complex perception of the physician comes more complex evaluation and follow-up processes. For example, each resident must be assessed for each of the entrustable professional activities (EPAs) required by their training program. These are both numerous and varied, ranging from "Performing a physical examination appropriate to the patient's clinical situation" to "Communicating in difficult situations". They are then divided into several milestones, i.e., observable markers that make it possible to monitor the development of skills.
Far from complicating the learner's journey, technology actually equips the learner and their colleagues. It facilitates the transition from the theoretical vision adopted by health and educational institutions to its concrete application in the daily lives of residents, bosses, administrators and high-level managers like deans.
6 Challenges of Adopting Competency-Based Medical Education (CBME)
The technology community is constantly exchanging with the medical community to develop innovations that can help them meet their challenges. Here are some examples of the challenges closely related to the adoption of the CanMEDS-based competency-based approach, or Competency by Design (CBD).
1. Managing an increasing amount and variety of evaluation materials
In a program with several dozen residents, compiling and organizing documentation to track EPAs and milestones can easily turn into an administrative nightmare. The variety and amount of data to be collected and reported is much higher than with traditional medical training, including the use of a higher quantity of assessment forms and reports.
Role of technology: Centralize, organize and make evaluation data accessible
Storing the thousands of documents required by the competency-based approach would probably not have been possible before the advent of computers. However, web-based technologies offer opportunities that go far beyond simple data warehousing. For example, it allows all data collected in real-time to be centralized and then easily accessed by organizing it into different views.
For example, an administrative staff member will not see the same information as a resident or a physician, nor will higher-level managers like deans. Technology not only helps compile data quickly but also helps navigate what might otherwise be perceived as an overabundance of information.

2. Giving feedback to learners more frequently
The more practical the skills being assessed, the more relevant it becomes for the learner to receive early feedback so that they can make adjustments if necessary. However, if the evaluator is not well equipped or coached to effectively communicate the evaluations of multiple residents for multiple EPAs, it is quite likely that residents will receive feedback too late in the learning process, which will be detrimental to their development and chances of success.

Role of technology: Communicate evaluations in real-time and facilitate their access
Using an alert system and a well-thought-out interface, technology can encourage assessors to provide assessments as the learner progresses. For example, assessor and learner responsibilities can be integrated into a schedule according to a pre-determined timeline. Web-based technologies allow learners to view their assessments independently as they become available, even from mobile devices.

3. Freeing up time to conduct evaluations
The competency-based approach is time-consuming for assessors, who must be present during certain medical procedures, such as surgery or examination. In addition, it can be difficult for the assessor to remember each resident they are supposed to assess, especially when residents are seen only a few times a month. For physicians who feel overburdened, the addition of new time-consuming responsibilities to their daily routine is probably not welcomed, even if the goal is noble.
Role of technology: Expedite administrative aspects of the evaluation process
Technology obviously cannot evaluate residents for physicians, but it can save them time by expediting the act of evaluation. For starters, the use of web-based technology allows physicians to conduct assessments from any device, eliminating dependence on work infrastructure. Thus, a physician could conduct assessments in the clinic or at home if it better fits their schedule.
A well-designed technology interface also makes it possible to quickly find residents to be assessed and complete assessments with a few clicks. As an example, the Logibec MedSIS 3C solution offers over 900 assessment form templates that have been designed to simplify information entry..

4. Getting a complete overview of the learner's journey
It takes a minimum of 7 years of study to become a physician, a number that can rise to 13 for certain specialties in some educational institutions. Along the way, the medical learner interacts with a variety of stakeholders at different institutions.

The competency-based approach does not create this challenge, but it does add complexity. The amount of information and data that needs to be considered at each step increases, making it difficult to get an overview of the learner's journey. This is especially true because, with this new approach, the basic unit of measurement for learner progress is no longer elapsed time, but acquired skills. Since it is partly up to the resident to manage the acquisition of his or her competencies, the importance of maintaining control over the progress of his or her journey is crucial.
Role of technology: Provide real-time data on learner progress
The technology can provide a wealth of real-time reports and statistics on placements, EPAs, and the learner's journey in general. This information can be accessed independently by both the learner, who maintains greater control over their training and by administrators, who can collect data on the performance of their programs.
It should be noted, however, that not all technological platforms allow for the tracking of learners throughout their academic careers. Logibec MedSIS 3C tracks learners from admission to graduation.

5. Implementing change management related to new evaluations with success
While medical education is constantly evolving, the competency-based approach represents a major shift. In an environment already overwhelmed by change, it can be difficult to get all the players involved in the learner's journey to listen and participate. In addition, the list of items to be implemented can quickly become overwhelming if it is not organized into a system or supported by a proven structure: participation in Royal College committees, review of departmental structure, organization of workshops, curriculum planning, etc.
Role of technology: Promote the participation of the actors involved in medical education
Here, technology is a double-edged sword. The use of a new technological tool can be seen as an additional burden in the healthcare environment, given the already large number of computer systems in use. However, if the tool in question reduces the number of systems previously used and offers added value to users in their daily lives, it can instead become a motivator for change.
In a case study from the collaboration between McMaster University and Logibec MedSIS 3C, for example, faculty and residents became highly engaged in medical education with the implementation of the system, which proved to be a positive experience.

6. Keeping your training up to date
The most recent version of CanMEDS was formalized in 2015, but a new update is expected to be adopted in 2025. Given the ever-evolving nature of medical education, this update will likely be followed by other versions in the future.
Adapting existing training curricula to new theoretical frameworks is a work in progress in itself. That said, this project may become the tip of the iceberg of updates if institutions are not well equipped technologically. New information will inevitably have to be integrated into the forms and possibly with increasing frequency. Without the proper tools, it can become extremely difficult to provide up-to-date training.
Role of technology: Facilitate the updating of evaluation processes
Web-based technologies make it much easier to update the evaluation forms and data to be displayed on the various reports. A change can be implemented in accordance with the policy framework and then immediately visible to all.
In addition, the technology allows different educational or care delivery sites to leverage efforts already invested elsewhere, for example through template reuse. Of course, to take advantage of this benefit, the technology must already be fairly well established and the vendor must offer specialized support.

Getting the Right Tools to Implement the Competency-Based Approach
Depending on the systems used and processes already in place, the move to a competency-based approach may represent an opportunity to adopt new web-based tools that allow for less time spent assessing residents while providing more detailed assessments.
Each educational or healthcare institution has its own implementation challenges, but many revolve around general recurring themes. If you want to take full advantage of the competency-based approach, the Logibec team can provide you with tools and advice. Our Logibec MedSIS 3C solution is already used by more than 39,000 learners and healthcare professionals in Canada, in addition to having a presence in more than 3,000 different sites. In addition to supporting medical training, it is adaptable to other types of health training programs, such as nursing and pharmacy.
Learn More by Downloading our Webinar
Do you play a role in implementing and improving competency-based medical education programs? We encourage you to download our recorded webinar, Mitigating the Challenges of CBME: The Need for the Right Platform, to learn how you can leverage technology to drive positive change in medical education.