Competency-Based Medical Education: Overcoming the Pandemic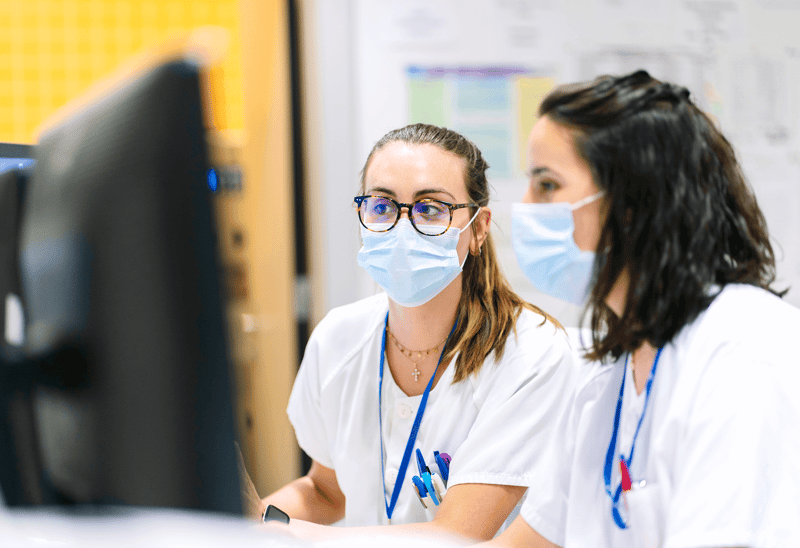 The article you are about to read was published before October 5, 2023, when LGI Healthcare Solutions was still named "Logibec". It is therefore possible that the text or certain images refer to the company's former branding, as well as the former naming of our solutions. Thank you for understanding.
Much of the health care in Canada is delivered by medical residents and the spread of COVID-19 has disrupted this delivery of health care along with the medical education that residents receive.1 [Rose, pg 1] Residents have had their training and rotations modified, moved or suspended, limitations to clinical activities placed, and have had difficulty completing their training. And for many patients, elective surgeries have been postponed.2,3 [McCarthy, pg 1][RCPSC, pg 1].
Great effort has been taken to prevent the spread of infection between patients, residents, and other healthcare professionals. Amid all of this, the implementation of CBME has continued across the Canadian medical education landscape. Residents have had to change and adapt to new ways of learning and delivering healthcare. And the need to prepare future doctors has never been greater. The profound effects of COVID-19 may forever change how future doctors are educated.1 [Rose, pg 1]
The Royal College's Guiding Principles
The Royal College recognized the impact of COVID-19 on medical education and resident training, and proposed the following principles for guidance:3 [RCPSC, pg 1]
Safety comes first
Patient care takes precedence
Maintain educational activities, where possible
Graduating residents and trainees must be competent to practice unsupervised
Contributions that residents make to the COVID-19 situation count towards their requirements
Flexibility in how programs facilitate training, including allowing for extra time
Documentation is critical
This guidance, along with the implementation of CBME has allowed residents to continue delivering excellent health care while receiving excellent training and education.

The Benefits of CBME During COVID-19
The implementation of CBME over the last few years has been incredibly beneficial in helping residents adapt to this new norm. CBME takes advantage of technology, allowing for an improved educational experience for residents in many ways:4 [Queen's University_How CBME Works, pg 3]
Individualized Learning:

Residents will receive more supervision, assessment, and mentorship

Increased Flexibility: Residents who are moving at an accelerated pace have the ability to explore electives and research
Innovative Assessments: New electronic assessment systems featuring personalized portfolios, competency-based assessment tools, and increased frequency of assessment.
Meaningful Feedback:

Residents will get real-time feedback utilizing mobile technology

Preparedness for Practice: It is anticipated that residents will sit for their final examinations six months to one year earlier than usual
Based on this, residents were able to continue their learning remotely and deliver excellent health care to patients while following COVID-19 safety guidelines.
Successful Implementation of CBME
In a recent case study, we discussed how some Canadian medical universities have successfully implemented CBME across all of their residency programs. One important factor was the use of a robust electronic platform. McMaster University, for example, opted to use the robust and flexible platform, LGI Education (MedSIS 3C). This electronic platform provided the following:
An intuitive platform

with a

quick onboarding process

An inclusive solution

that worked for both the

RCPSC

and CFPC

Real-time, automatic form building

of all assessment forms based on templates. This allowed for

instantaneous

reporting

of things such as: Learner Summary Reports, Stage Reports, EPA Summary Reports, EPA Milestone Reports, and other real-time reports

A mobile interface

that allowed for daily, direct observation. Instead of one assessment per block under the previous system, assessments could now be submitted daily via forms on the mobile interface, allowing for

real-time CBME observations

A single solution

that worked for everyone, including residents, coaches, and competency committees. This allowed for a single source for all documentation,

saving time and resources
This allowed McMaster University to successfully roll out CBME across the majority of its residency programs. Using their example, other programs and institutions can also make the transition as pain-free as possible.
Learn More by Downloading our Case Study
Do you play a role in implementing and improving competency-based medical education programs? We encourage you to download the case of McMaster University, A Solution to Competency-Based Medical Education (CBME) Implementation, to better understand how this organization made positive technology changes in medical education.