Long-Term Care Facilities: Address Absences and Staff Shortages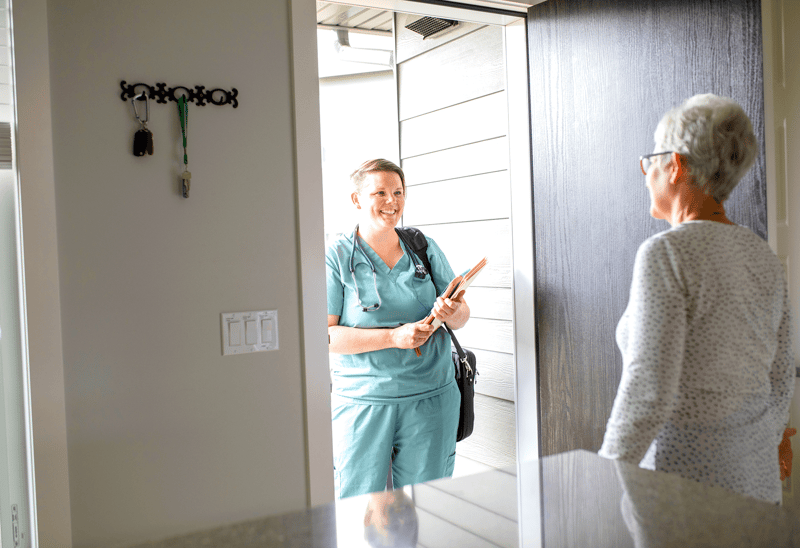 The article you are about to read was published before October 5, 2023, when LGI Healthcare Solutions was still named "Logibec". It is therefore possible that the text or certain images refer to the company's former branding, as well as the former naming of our solutions. Thank you for understanding.
Many countries across the globe have felt the enormous impact that the COVID-19 pandemic has had on the Long-Term Care (LTC) sector. While the risk is most obvious in the vulnerable elderly residents, many of whom are in frail states with advanced medical conditions, the healthcare workers who are caring for these patients daily are also at high risk.
In addition to the health impacts of COVID-19, there has been an increase in absenteeism and staff shortages in an industry that has already been struggling to find available and skilled workers. The Canadian Institute for Health Information has reported that more than 10% of COVID-19 cases have been identified as occurring among LTC staff members. And with 1 out of 5 COVID-19 cases in Canada reported among LTC residents, the chances of an LTC healthcare worker contracting the disease is still quite high. This cycle continues to permeate the industry with increased levels of absences and shortages of staff in a sector that has been hit hard by the pandemic, claiming over 80% of COVID-19 deaths in the country.
In Canada, more than 10% of the country's total cases were among LTC staff members leading to high rates of absenteeism and staff shortages
Source: CIHI

What Can your LTC Organization Do to Combat this Vicious Cycle in this Time of Uncertainty?
You can start by looking at the internal processes and systems that affect how your organization responds to absenteeism and staff shortages. Then, you can identify and implement changes to support the current challenges and the continued battle ahead. Being able to quickly adjust the schedule and find open eligible shift replacements is important to maintain safe staffing levels; however, a staff schedule is only as good as the process used to build it. If the process is disorganized, ineffective, and inefficient, this will be reflected in the quality of the schedules through schedule gaps, overages, payroll errors, and the inability to respond to changes quickly.

The key is finding the right solution —an automated staff scheduling system that meets your scheduling needs with a vendor who knows your industry and its specifics, and has experience supporting it.

With Logibec Scheduling, a solution specifically designed to support the staffing and scheduling complexities of long-term and acute care organizations, you can feel confident that it will meet and exceed your organization's needs. And with almost 40 years of experience in the Canadian healthcare sector, Logibec deeply understands the challenges healthcare organizations face and has the knowledge and experience to help solve them.

How Will a Staff Scheduling Solution Help your LTC Organization?
Logibec Scheduling has a multitude of automation and workflow capabilities to help your long-term care organization improve and streamline your staffing and scheduling processes. In the context of increased absences and staff shortages, Scheduling can help organizations to:
Manage absences and get immediate insight on open shifts, with real-time dashboards to inform Managers and Schedulers of the day's activities.
Gain broad visibility over managing staff to enable agile shift adjustments to cover the most critical areas.
Quickly and easily respond to last-minute absences by sending open shift offers using automated voice or text messages to available and qualified employees.
Balance staffing levels and adjust master schedules and baselines with digital tools that dynamically update the schedule in real-time.
Empower employees with self-service capabilities to view and make changes to their schedule, request for leave, swap shifts, and respond to shift offers via their mobile devices.
Understand absence trends and plan to accommodate with powerful reporting .
Send mass communications to employees with emergency codes and calls-to-action in the case of an emergency or crisis.
Be notified immediately of no-shows or late arrivals with notifications directly to the Manager's mobile.
Ensure accurate payroll with updated and automatic timecards.


10 Benefits of Having a Real-Time Automated Scheduling
Access to updated schedules in real-time
Immediate insights to open shifts
Gain broad visibility over staffing levels
Quickly respond to last-minute absences
Balance staffing levels
Manage absences
Increase employee autonomy
Get powerful reporting
Be notified of no-shows or late arrivals
Ensure accurate timecards for payroll

How Can Healthcare Workers in LTC Benefit from a Digital Scheduling Solution?
To support the "new normal" requirement of limited in-person interactions and social distancing measures, a digital staff scheduling solution with mobile self-service capabilities can effectively empower employees to manage their time and schedules autonomously without the need for face-to-face communications. In fact, mobile device capabilities can increase engagement and productivity in employees with real-time access to their work schedules and the ability to make changes and requests on their own.

Logibec Scheduling enables your organization to manage the administration of staffing and scheduling digitally, reducing the need for in-person interactions. Through mobile devices, employees can:
View and manage their real-time schedules
Request shift swaps
Respond to shift offers
View leave banks and submit requests for leave
Indicate their availability preferences
Clock in/out of shifts using touchless facial recognition scanners or mobile devices
Respond to emergency callout messages to show response times
Send and receive notifications and messages
As Canada continues to manage the health crisis with proactive and pragmatic measures, your organization can follow suit by applying the same practical measures to your staff scheduling practices. While a digital solution can't create more resources to fill the gaps in your workforce, Logibec Scheduling can help make better use of the resources you do have – by optimizing your current processes to effectively and safely schedule employees and assist administration in ensuring the delivery of quality patient care.
Learn More by Downloading our Recorded Webinar
Want to learn more about what motivated Canadian healthcare organizations to invest resources into implementing healthcare-specific staff scheduling solutions? We encourage you to download our recorded webinar, How LTC Can Staff Effectively While Mitigating Resource Costs, to gain insights into ways your organization can improve its schedule management processes to the benefit of both staff and patients.