Long-Term Care Facilities: Effectively Track Staffing Resources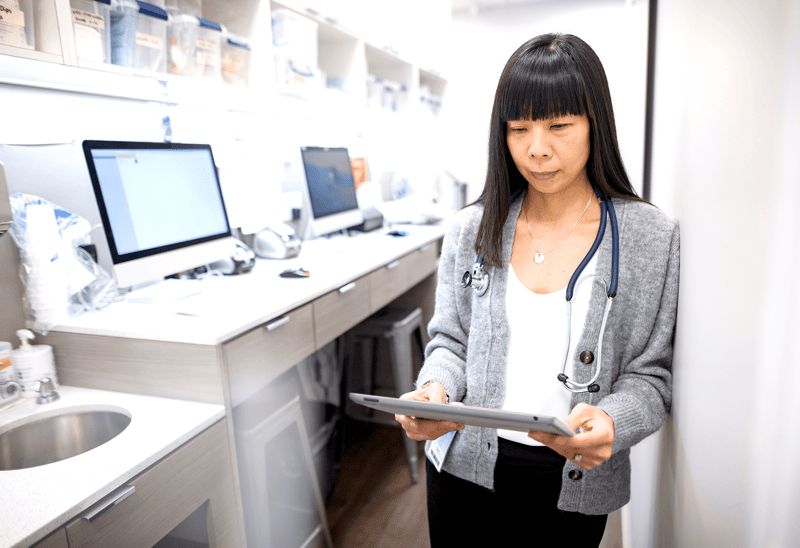 The article you are about to read was published before October 5, 2023, when LGI Healthcare Solutions was still named "Logibec". It is therefore possible that the text or certain images refer to the company's former branding, as well as the former naming of our solutions. Thank you for understanding.
Long-term care facilities across Canada have been battling numerous challenges in the past year due to circumstances brought on by the COVID-19 virus. From ongoing staffing shortages, facility outbreaks, changing resident needs and acuity levels, quarantining, staff sick days, and overall stress and burnout, this sector's staffing resource needs are frequently changing. Moreover, with an already problematic undersupply of healthcare workers, long-term care facilities and nursing homes are in desperate need of additional help in supporting the daily needs of their residents.
In this continually changing environment, long-term care facilities and nursing homes are in drastic need of help from external resources, such as staffing agencies and government-mandated support, to fill the immediate staffing needs. At the provincial government's request, the Canadian Red Cross has answered that call for help to assist those long-term care facilities that have the most need and have been greatly affected and short-staffed by COVID-19 outbreaks.
The Red Cross has deployed resources across the country in the provinces of Ontario, Quebec, Manitoba, and most recently British Columbia. These additional resources offer a wealth of aid, including respite support for overworked staff, additional personnel capacity to assist with the daily comfort and care needs of the residents, organizing and delivering personal protective equipment, and providing training for the prevention of disease transmission.
5 Reasons How a Long-Term Care Facility Can Benefit from Having an Automated Scheduling Tool
Access to updated schedules in real-time
Immediate insights to open shifts
Gain broad visibility over staffing levels
Quickly respond to last-minute absences
Ensure accurate timecards for payroll

A Strong Foundation to Support Constant Change
Long-term care facilities need to be agile and responsive in order to adapt to changing situations quickly. As internal staff members fall ill or need to quarantine due to an outbreak, those suddenly vacant shifts need to be replaced by either another internal employee or an external resource, like a staffing agency or other support services. Suppose an additional resource is acquired to provide much-needed help to an overburdened unit or department; in that case, the ability to gain visibility into staffing levels across the organization is paramount to optimizing resources across the organization.
When external resources are added to a facility's staffing roster, it is even more critical than ever to stay organized and have full visibility over your schedule and staff. You need to know who is on shift at all times, whether those resources are internal versus external, who is available to fulfill open shifts at any given time and understand where understaffing is an issue to deploy assistance quickly where it is most needed.
A digital, full-scale staff scheduling platform that manages your facility's entire scheduling life cycle will provide the foundational structure required to support those constant changes and help your facilities be more flexible with schedules and staffing resources.

Complete Staff Schedule Management for Your Long-Term Care Facility
LGI Scheduling is a full suite, staff schedule management solution that focuses on solving the staffing challenges in the long-term care sector now and in the future. With a fully integrated suite of scheduling modules purposely designed to support Canada's healthcare facilities, LGI Scheduling creates schedules configured specifically to your facility's staffing needs. The staff scheduling software solves shift fulfillment issues and manages the entire staff scheduling journey that your organization needs to ensure the safety and care of your valuable residents.

Flexible Schedule Maintenance and Staff Resource Tracking
LGI Scheduling makes tracking external staff resources easy, from staffing agencies or other support services, with the ability to track organization names, contact information, and the resource's full names in the system. Schedulers can assign them to open shifts as quickly as they would for internal staff, making them visible directly on the schedule. Your schedulers and managers will know exactly who occupies a shift regardless of whether they are internal staff or external resources.
When additional resources become available for deployment or if a unit or department requires more staff assistance than usual, schedulers can simply add capacity to the schedule with the ad hoc shift functionality in LGI Scheduling to add shifts to an already posted schedule. Resources can be assigned directly to the newly added shift, and the system updates the schedule in real time, always providing facilities with up-to-date schedule information.
LGI Scheduling ensures the staff schedules of your long-term care facility are flexible enough to adapt to constant changes, such as the management of external resources, and are fundamentally strong and resilient to the evolving needs of resident and patient care.
Learn More by Downloading our Recorded Webinar
Want to learn more about what motivated Canadian healthcare organizations to invest resources into implementing healthcare-specific staff scheduling solutions? We encourage you to download our recorded webinar, How LTC Can Staff Effectively While Mitigating Resource Costs, to gain insights into ways your organization can improve its schedule management processes to the benefit of both staff and patients.