Long-Term Care Facilities: Monitor and Respond to Staffing Changes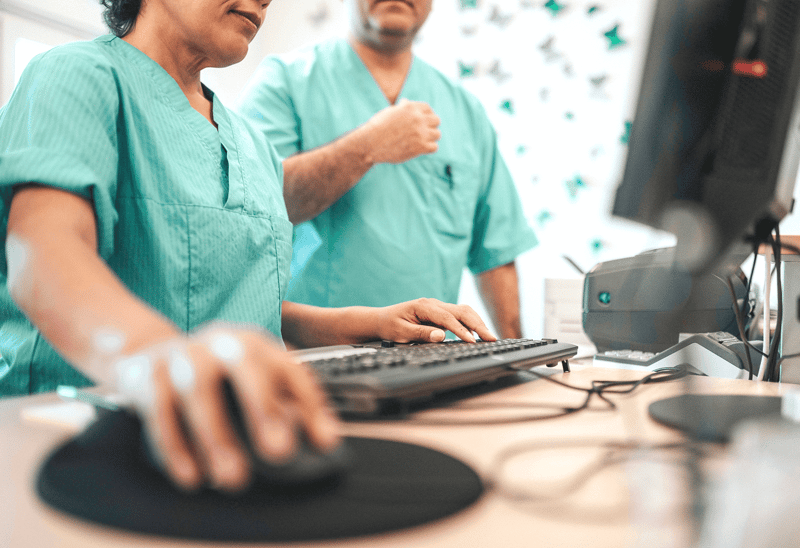 The article you are about to read was published before October 5, 2023, when LGI Healthcare Solutions was still named "Logibec". It is therefore possible that the text or certain images refer to the company's former branding, as well as the former naming of our solutions. Thank you for understanding.
In this article, see how long-term care facilities can ensure safe levels of staffing for patient care, even in a pandemic crisis, with an efficient workforce management system in place to monitor and quickly respond to absences, staff shortages, late arrivals, and last-minute shift changes.
The long-term care (LTC) sector has been hit significantly hard by the COVID-19 pandemic, claiming 18% of Canada's total COVID–related cases and contributing heavily to the already strained supply of qualified healthcare workers. Reports of outbreaks in long-term care facilities continue to rise across the country in full swing of the second wave as Canadians struggle to strictly follow the government health guidelines to reduce the spread of the virus. The uptick of positive cases, particularly in long-term care, poses a significant risk to the lives of vulnerable residents through both the exposure to the coronavirus itself, as well as through the decline in the availability of the healthcare workers that care for them. 
Personal Support Workers (PSWs) — sometimes referred to as Health Care Aides, or Patient Care Aides — provide 75-80% of the direct care to residents in long-term care homes in Canada. They are the backbone of long-term care. They have an immensely difficult job in providing intimate health and social care for patients in these care facilities; their tasks usually include assisting with daily care activities such as feeding, bathing, dressing, bathroom visits, walking, and sometimes even providing the only social interaction that residents receive on a regular basis. Their presence and care are essential in preserving the mental and physical health and well-being of the residents they care for. That is why it is so important to preserve long-term care's dwindling workforce and have an efficient workforce management system in place —with the necessary tools — so you can monitor and quickly respond to absences, staff shortages, late arrivals, and last-minute shift changes to always ensure safe levels of staffing for patient care.

The Scheduling Dashboard: The Control Center for Workforce Management
With LGI Scheduling, schedulers and managers have access to an informative dashboard that provides a single-screen location of scheduling and staffing activities that can be monitored and actioned. Your care team will be always in the know of any staffing needs with the ability to make immediate changes at their fingertips.
Features
Information-rich widgets that provide at-a-glance details of staffing levels, absences, open shifts, time exceptions, messages, and more
Dynamic hyperlinks to take you directly into the area of the application that requires action
Configuration capabilities to add, remove, or change the location of widgets to provide a custom view of the information you need
Mobile device capabilities so you can always be in the immediate know when a staffing change requires your attention

Automated Shift Callout for Fast and Easy-Shift Replacements
LGI Scheduling has a fully integrated shift callout feature that replaces the need to manually call in staff to find replacements for those last-minute shift changes, such as absences, late arrivals, or perhaps to add an additional resource to an overwhelmed unit. Shift callout methods that used to take schedulers hours to complete now takes only minutes with a few simple clicks of the mouse.
Features
Simple, intuitively designed process
Powerful rules engine — configurable to meet skills requirements, staff availability preferences, and union and business rules unique to your organization — to find the best-fit replacements for the shift
Callout notifications are automatically sent via text message or auto-call
Mobile capabilities for staff to view and respond to shift offers Automatic update of the schedule upon final shift approval

Time & Attendance Alerts Managers of Staffing Level Risks
LGI Scheduling has a fully integrated Time & Attendance module so Managers can be immediately aware of late arrivals or no-shows to prevent any interruptions to patient care. The results are fast, accurate, and reliable.
Features
Fully integrated module, not a third-party add-on
Managers receive immediate notifications of time exceptions (time captures outside of "grace periods" — configurable according to the organization's preferences)
Automatic generation of timecards —from approved exceptions — that are interfaced directly with payroll
Wide selection of time-capture devices available from key card or biometric fingerprint scanning, to touchless devices, such as facial recognition with infrared temperature capabilities
Mobile device time captures

With LGI Scheduling you have the powerful capabilities of a fully integrated workforce management solution that allows your team to actively monitor your daily staffing levels and gives them the tools to quickly and effectively make adjustments and respond to changes as needed.
Learn More by Downloading our eBook
Want to learn more about how to scale your scheduling operations, and reduce overtime costs and administrative work? We encourage you to download our eBook, Enhancing Nurse Scheduling Efficiency: Simplified Process for Stakeholders, to gain insights into ways your organization can improve its schedule management processes to the benefit of both staff and patients.
References
B.C. health authorities report new COVID-19 outbreaks in long-term care homes
Will we ever learn? After a catastrophic first wave, COVID-19 is pummelling long-term care homes again