Recruitment and Retention in LTC: Jodi Hall, CALTC CEO, Interview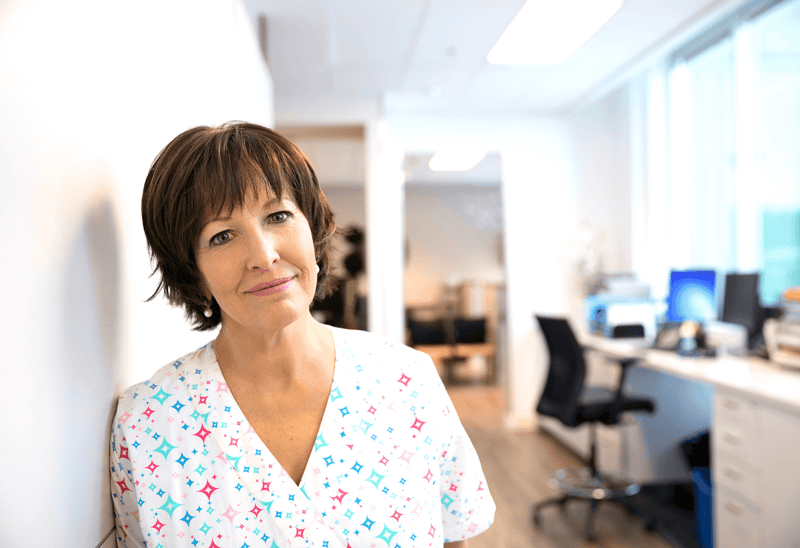 The article you are about to read was published before October 5, 2023, when LGI Healthcare Solutions was still named "Logibec". It is therefore possible that the text or certain images refer to the company's former branding, as well as the former naming of our solutions. Thank you for understanding.
Recruitment and retention of healthcare workers are the highest priority in Canadian healthcare today as we see the pandemic's effects on our country's frontline workers. Already suffering from a staff shortage crisis, COVID-19 brought a level of devastation to the long-term care sector that is making it difficult to slow down the high churn of healthcare professionals leaving organizations or the profession entirely. Much work needs to be done to improve the strained situations in long-term care homes, change negative perceptions, and increase employee engagement in a sector that urgently needs compassionate and skilled individuals to care for their residents.
We spoke with Jodi Hall, CEO of the Canadian Long-Term Care Association and a distinguished leader in long-term care on both provincial and national levels. Following a previously published news release by Jodi, "Canadian Association for Long Term Care CEO calls for Team Canada approach post-election", the call to stabilize the long-term care workforce was addressed. We asked Jodi for her continued thoughts on this topic and what long-term care operators can do today to help improve the recruitment and retention efforts of this valued workforce.
Considering the state of the world today and the recommendations made, what do you think are some key initiatives homes can do to improve their staffing crisis?
Jodi Hall:
As some have suggested during this election, there is no one "silver bullet" solution that will fix the long-standing challenges faced in long-term care, and I couldn't agree more. The issues that have caused the staffing crisis in LTC are chronic and complex, and any solutions must be adaptable to different jurisdictions.
I would encourage all long-term care homes to get in contact with their local elected officials about the staffing shortage in their homes. I think I can speak for many LTC operators when I say that we are thankful that the federal government stepped in and offered support during the pandemic. However, our focus is now on building a sustained partnership that is built on a shared responsibility between federal, provincial and territorial governments, and the sector itself.

We want to work with all levels of government to ensure we are delivering the care seniors deserve, supported with the appropriate level of funding and investment. We believe that strong, united leadership is what is needed to help solve chronic problems in long-term care, and better equip our country to support its ageing population.

At the local home level, homes can learn more about how to support newcomers to Canada with employment opportunities. Supporting mental health needs of their current workforce is also an important step to support staff resiliency and wellness. Communicating with local colleges and universities about the employment opportunities in a home can also be helpful to develop future staffing.
In the Future of Care, CALTC's 2021 Federal Election Campaign recommendations, the summary called for "the development of a national human resource strategy that recognizes the significant challenges care providers face across the country in attracting and recruiting talent." Can you please provide some additional insight to these recommendations?
Jodi Hall:
Attracting and retaining individuals in careers that care for Canada's seniors has become increasingly challenging. There are serious questions about the sustainability of long-term care across Canada without an available workforce. There are investments needed, but also targeted policy work that will make a big difference in addressing this challenge.

When we consider workforce development in long-term care, we should include immigration and its potential to connect qualified newcomers with employment in long-term care. This aligns with the government's commitment to amend the Immigration and Refugee Protection Act to access more candidates that meet the nation's labour market needs. Past federal successes like the 2017 Atlantic Immigration Pilot program have shown how this could work.

The Atlantic program supported employers in hiring skilled workers who wanted to immigrate to Atlantic Canada and international graduates who wanted to stay in Atlantic Canada after they graduated. The success of this pilot has led to the government committing to making this a permanent program.

Another immigration-based strategy involves revising the National Occupation Code for the personal support worker to ensure they are classified correctly as a priority profession. Current immigration policy classifies PSWs as "semi-skilled workers" and ineligible to access popular pathways to Canadian permanent residency.

Other areas of importance are training and education for personal support workers and professional care team members such as Licensed Practical Nurses and Registered Nurses. Increasing the educational capacity of colleges and universities to increase seats to specifically prepare care staff for long-term care settings is essential. A robust workforce solution should also include mental health support. Staff have absorbed much of the impacts from working on the front lines throughout their careers. Now more than ever, staff are leaving the sector due to stress. We need to develop mental health programs to support staff to build resiliency so that when crises occur, staff in our homes are better equipped to deal with the daily pressures they face.
What message do you have for new recruits and individuals who are considering a career in the healthcare profession? Why should they choose to go into long-term care versus other areas of healthcare?
Jodi Hall:
Though it sounds cliché, it is truly a privilege to do what we do. My entire career has been in long-term care, starting in the kitchen of a home when I was still in high school, and I have found it to be both a deeply challenging and deeply rewarding occupation. How we treat our most vulnerable citizens says a lot about the nature of our society. As our population lives longer and with more complex conditions, seniors' care affects us all. It is absolutely crucial that we have intelligent, driven, innovative and caring people working in long-term care who will play the essential role of advocate for Canada's senior citizens.
Now is a particularly good time to enter our sector as the Canadian population is deeply connected to ageing and aware of the challenges we are facing in long-term care, perhaps more than ever before. Canada's LTC system is at a turning point, and many opportunities lie ahead. There is tremendous innovation, and world-class thought leaders in ageing and long-term care in Canada. It is an exciting time for us, and I am hopeful and optimistic for what the next few years will bring for our sector. I hope that you want to be a part of it!
Learn More by Downloading our Recorded Webinar
Want to learn more about what motivated Canadian Long-Term Care organizations to invest resources into implementing healthcare-specific staff scheduling solutions? We encourage you to download our recorded webinar, Improving the Staff Scheduling Experience in Long-Term Care, to gain insights into ways your organization can improve its schedule management processes to the benefit of both staff and patients.