Scheduling Technologies: Improve Payroll with Positive Time Capture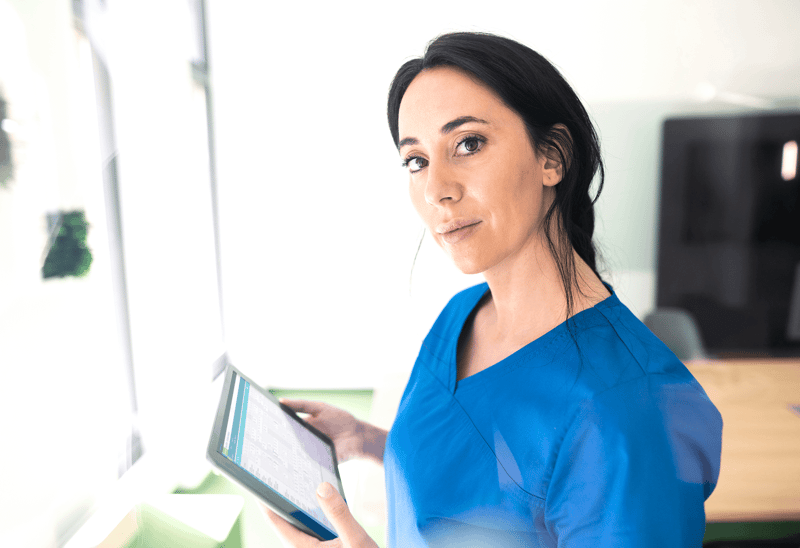 The article you are about to read was published before October 5, 2023, when LGI Healthcare Solutions was still named "Logibec". It is therefore possible that the text or certain images refer to the company's former branding, as well as the former naming of our solutions. Thank you for understanding.
From the much-maligned Phoenix federal payroll system to the new 1GX payroll system in Alberta [1], we have seen the impact that incorrect payroll can have on the satisfaction and well-being of government employees; in these times of global crisis, we need to make sure that our healthcare employees on the frontline aren't burdened with the same kind of additional stress.
Canadian payroll and timekeeping requirements are many and complex on their own; for healthcare organizations, you're adding the complexities of the 24/7 work in that industry and the requirements of the different unions involved. On the surface it might seem like an employee punching in 15 minutes early for a shift isn't a big deal, but there are considerations beyond that action: is the employee entitled to be paid for that extra time? Was that time captured properly? Is the employee's pay going to be correct, or will it require a post-pay adjustment and risk a grievance for incorrect payroll? How many of these 'little fixes' are required across the whole organization, and what's the administrative cost of them? The burden of payroll accuracy falls squarely on the shoulders of the employer, and one of the best ways for healthcare organizations to ensure their payroll is correct is to proactively manage their timekeeping processes.
Reduce Administration Time with Easy Exception Management
The Time & Attendance module of LGI Scheduling uses positive time capture practices to ensure that the timesheets sent to payroll are accurate. Employees clock in and out for their scheduled shifts and the application takes over the bulk of the administrative burden; it's automated to compare the clock time to the employee's schedule and raises a flag if it detects anything unexpected that a manager might need to look at. For example, if an employee is scheduled but doesn't clock in, the application creates an exception and notifies the manager/scheduler so that they can confirm the status of that employee. If an employee clocks in late for their scheduled shift, the manager can accept the clock time right from the captured exception on the Time & Attendance page in the application.
Our comprehensive rules engine lets you define if there are 'grace periods' for early or late punches, so you're only alerted when there's something you need to examine. For some unions, the magic number for adjusted pay is 7.5 minutes; in this example, you would specify that any time entry later than 7.5 minutes past shift start is considered to be 'late', and the system would only flag those late entries. Instead of weeding through all employee entries to find the exceptions, you can view only the exceptions; when these flags are raised, they're collected in a single screen in the application where you can view the details of each and adjust the schedule accordingly, accept the time as punched, or waive the exception before posting time entries to timecards. Collecting the time information in a single location makes Time & Attendance easy to use for managers and schedulers alike, and the ability to verify time entries prior to payroll processing saves your organization time and costs down the road.
5 Reasons How a Long-Term Care Facility Can Benefit from Having an Automated Scheduling Tool
Access to updated schedules in real-time
Immediate insights to open shifts
Gain broad visibility over staffing levels
Quickly respond to last-minute absences
Ensure accurate timecards for payroll

Make Easy-to-Use Employee Clocking Options Work for You
Our Time & Attendance module is also easy to use for your employees. LGI Healthcare Solutions provides a variety of options available for clocking in and out for shifts, including biometric face or fingerprint scanners and contactless time capture devices - an important consideration in a healthcare setting, especially in the midst of a global pandemic - and the ability to clock in and out with a mobile device. The Time & Attendance was created on the basis of positive time capture, which is more effective for accurately capturing the worked time of hourly employees than simply recording absences.
Detect Trends and Potential Issues with Reporting
LGI Scheduling comes with several built-in reports related to time management and verification. You can generate a list of exceptions for a given date range, view absence, and overtime trends by days of the week, generate employee-specific reports listing all absence or overtime pay reasons for a given time frame, generate a comparison of worked hours against absence, standard, and overtime hours, and much more. Identifying impactful trends with these reporting features can help your healthcare organization create stronger and more efficient timekeeping and payroll processes.

Create Accurate Timesheets and Streamline Payroll Processing
Essentially, as a healthcare organization you want to be able to catch potential payroll errors before they are processed; doing so will save your administrative staff valuable time and help protect your business from union grievances or legal proceedings related to inaccurate pay. LGI Scheduling has built-in automation and reporting capabilities and easy-to-use clocking devices to make timekeeping a streamlined and simple process that can provide valuable insight into potential larger-scale issues. By accurately capturing time entries as they happen and clearing raised exceptions before the timecards are posted and sent to payroll, you're creating a less stressful experience for your administrative staff and your employees so that they can spend their time and energy on what matters.
Learn More by Downloading our Recorded Webinar
Want to learn more about what motivated Canadian healthcare organizations to invest resources into implementing healthcare-specific staff scheduling solutions? We encourage you to download our recorded webinar, How LTC Can Staff Effectively While Mitigating Resource Costs, to gain insights into ways your organization can improve its schedule management processes to the benefit of both staff and patients.
Reference
[1] https://calgary.ctvnews.ca/phoenix-style-problems-alberta-union-says-payroll-issues-affecting-government-workers-1.5269722