Scheduling Technologies: Supporting Daily Decision-Making for Nurses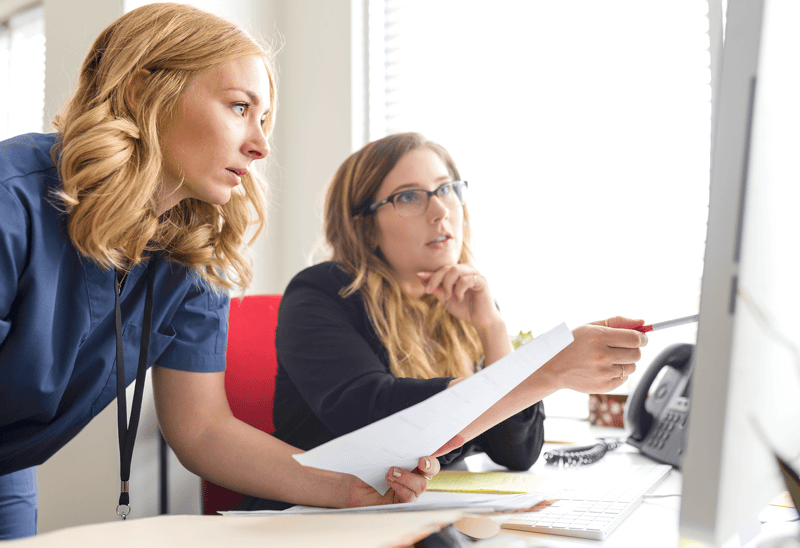 The article you are about to read was published before October 5, 2023, when LGI Healthcare Solutions was still named "Logibec". It is therefore possible that the text or certain images refer to the company's former branding, as well as the former naming of our solutions. Thank you for understanding.
Digitization of healthcare operational processes represents a concrete and measurable approach to creating opportunities for automation and cost containment across patient and resident-based healthcare service infrastructures. However, many healthcare organizations, such as hospitals and long-term care facilities, are not equally fortunate and have yet to see technology optimize their processes.
It's About Modernizing Traditional Models and Creating New Efficiencies
One of the pressing questions faced by healthcare executives is how to quickly, and cost-effectively, solve the scheduling challenges that have compounded in the healthcare sector over the years. These scheduling problems exist because balancing all the rules and constraints of staff schedules against the human variables behind them is a tremendously complex challenge without access to the right decision-support tools.
New technology-driven solutions have started to emerge that could potentially solve some of the scheduling challenges that have far-reaching consequences, from employee work-life balance to resource management. Healthcare administrators and executives now have access to innovative digital solutions that can help streamline staff scheduling processes and enable employees to focus on patient and resident care, rather than departmental staffing issues. These new management tools contain robust data analytics and can transform the healthcare sector with process automation and web-enabled access to decision-support tools. Leveraging years of Canadian healthcare expertise, Logibec offers an educated perspective on staff scheduling problems and provides the Canadian healthcare sector with a robust and effective, next-generation, staff scheduling solution.
Understanding the Concerns of Administrators and Decision-Makers
Much of the time spent by healthcare administrators is focused on minimizing administrative costs through containment of unnecessary events, like overtime and absenteeism. These situations force facilities to invest time and resources to address preventable workforce challenges that negatively impact their bottom lines and their ability to plan forward. Ideally, there should be an automated system that operates like a second set of eyes to oversee staff schedules and minimize the occurrence of redundant activities and time-consuming checks and balances.
When an employee doesn't wait for a request to be approved and calls in a last-minute change to the schedule, schedulers must react quickly to prevent short staffing. This situation is frustrating because schedulers have to drop everything and make urgent changes without efficient tools. They must quickly find last-minute shift replacements while keeping rules, such as seniority and who has the right skills for the shift, under consideration. There is a chain reaction-effect on other processes impacted by these changes and the cycle of inefficiency continues, perpetuating the problem of rising operational costs.
The need to take a step back and look at the overall picture and find an inclusive strategy to standardize staff scheduling is now imperative. One method to achieve leaner operations is by automating processes to help reduce manual administrative work that is redundant and inefficient. Doing this transforms the workforce management process into a single, accurate source of actionable data that is shareable and reportable. Decision-makers will benefit from reliable workforce information to understand trends, monitor performance, prevent unnecessary overtime, and remember work preferences to create a more efficient working environment. By bringing schedules and request management under one roof, everyone benefits from a unified digital platform that streamlines the scheduling process in real-time, while being able to monitor employee attendance at a granular level.

Logibec Improves Data-Driven Decision-Making in the Healthcare Sector
Transforming the staff scheduling experience to benefit all the stakeholders at once, from nurses and personal support workers to HR managers and operational executives, is now achievable. Logibec's innovative scheduling solution is designed to eliminate redundancies and provide timely, accurate, and relevant information throughout the many stages of the scheduling lifecycle. Hospitals can benefit today from a centralized and fully integrated scheduling system that provides all-in-one support and leads to better decision-making. The system helps decision-makers reduce the high costs associated with unnecessary absences and overtime and removes difficulties associated with accurately tracking employee attendance.
Logibec has made scheduling more efficient and accessible than ever for employees and management teams alike. With a central platform updated in real-time and accessible from any web-enabled device, it offers an inclusive view of the employee's schedule with built-in notifications that keep employees informed of shift offers and changes to their work schedules. This leads to fewer instances of unnecessary overtime, grievances, and staff shortages, and offers more efficient communication channels with information accessible in real-time.
A Fully Integrated Scheduling Solution that Improves the Employee Experience
Providing quality patient and resident care through reduced administrative burden is the ultimate benefit of a unified scheduling solution. Schedule management is transformed through digital and automated processes, decision-support tools, and advanced reporting and analytics that ensure schedulers and management have the right information, at the right time, to make important decisions. Logibec Scheduling helps improve budget control, collective agreement compliance and minimizes situations that can lead to overtime. By increasing the autonomy of employees with their schedules, changes can be requested via the application and approved, by the scheduler or manager, displaying an updated schedule for all affected employees. This system provides employees with an improved workplace experience, and opportunities to achieve a better work-life balance, and allows executives insight into real-time information and analytics to better guide strategic planning and growth.
Learn More by Downloading our Recorded Webinar
Want to learn more about what motivated Canadian healthcare organizations to invest resources into implementing healthcare-specific staff scheduling solutions? We encourage you to download our recorded webinar, How LTC Can Staff Effectively While Mitigating Resource Costs, to gain insights into ways your organization can improve its schedule management processes to the benefit of both staff and patients.