COVID-19 Pandemic: Empowering Caregivers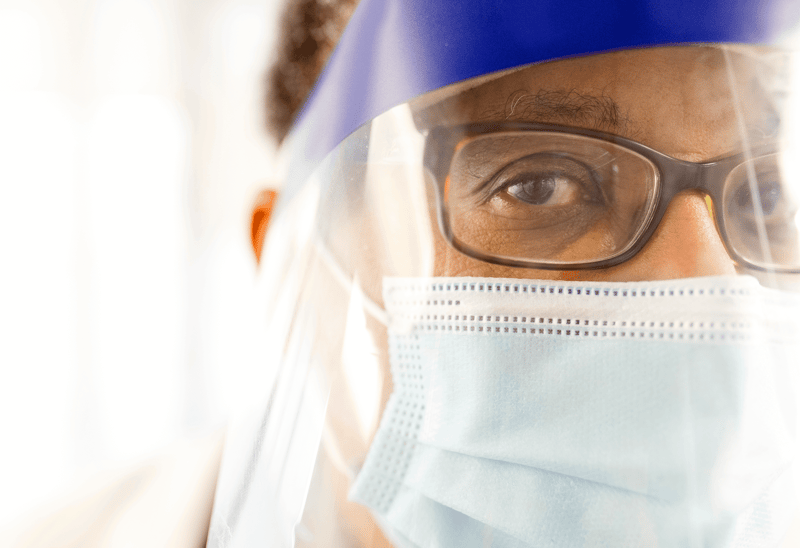 The article you are about to read was published before October 5, 2023, when LGI Healthcare Solutions was still named "Logibec". It is therefore possible that the text or certain images refer to the company's former branding, as well as the former naming of our solutions. Thank you for understanding.
Well-balanced hospital staff scheduling is critical to ensure a safe and productive working environment, especially in times such as the COVID-19 pandemic where resources are stretched thin, and patients' needs are greater than ever.
COVID-19's effect on Canadian healthcare centers generates considerable uncertainty and stress for all front line staff. In an interview with Global News, Vicki McKenna, a registered nurse and provincial president with the Ontario Nurses Association, said that "There are so many things that seem to be unknown, and so [nurses] are doing their very best with what they have, the information they have and the high anxiety level of their patients and the patients' families."

While patients are nurses' first priority in their professional and ethical framework, The Canadian Nurse Association's Code of Ethics clearly states that nurses have moral obligations to their own well-being in order to provide the best quality of care to their patients.

One advice given by mental health professionals for nurses is to take the time to unplug. Cynda Rushton, a professor at the Johns Hopkins School of Nursing and Berman Institute of Bioethics, stated that "nurses in every role are impacted. They're being asked to work in areas of the hospital that aren't their normal specialty. [...] They're being redeployed to learn new skills and take new roles". These changes caused by the pandemic are an enormous source of stress. One way to facilitate nurses' self-care and to handle the uncertainty is to provide more autonomy with their work schedules.

Autonomy plays an important role in job satisfaction and retention; for nurses, this not only pertains to patient care but also to schedule management. With automation and digitization of scheduling processes, it is now possible for hospitals to increase shift flexibility and ensure favorable working conditions for their nursing staff. Providing nurses with control over their work schedule is paramount, both for the nursing staff and the healthcare facilities that employ them.

Well-balanced employee work schedules also become critical to ensuring a safe and productive working environment, especially in times of emergency such as the COVID-19 pandemic where resources are stretched thin, and patients' needs are greater than ever.
How an Automated Scheduling Software Can Help Healthcare Organizations during a Pandemic?
Improved Work-Life Balance
Increasing nurse's autonomy in their scheduling practices is crucial to help nurses balance their work schedule and their personal life effectively. Unfortunately, it is still common for some management teams to draw up schedules manually. This process is rigid and provides little to no flexibility for the nursing staff to make changes to their schedules in order to balance their personal lives with work.

It was reported by Global News that "The emotion is high, the stress is high. And some of [the nurses] said the day goes by, or the shift goes by, and they just feel empty by the end of it." With the high professional and emotional pressure triggered by COVID-19, it is important to allow nurses to increase their autonomy with their schedules. It can be achieved by letting them perform key tasks in their scheduling process, such as specifying when they're available for additional shifts or swapping shifts with a colleague without a burdensome manual process. This could help the nursing staff have enough time to tend to their mental health and personal lives, and get much-needed rest.
Digitized Schedule Management
With COVID-19, the situation in a hospital can evolve rapidly. To increase nurses' scheduling autonomy, hospitals and care institutions could provide their staff with access to digitized schedules that are always up-to-date and reflect the latest changes made.

Modern scheduling software gives nurses complete and real-time access to their schedules. As a result, they have all the information they need to manage their daily programs autonomously. These systems are often available as web-based applications that nurses can access via their mobile devices.

Hospital unit managers are, therefore, able to streamline administrative tasks and provide nurses with access to a work schedule that is updated in real-time and always accurate. With notification and alert features, management teams can ensure that employees are notified, and assigned shifts are covered.

Streamlined Communications
Filing personal requests is not a transparent process everywhere. Nurses do not always know whether Human Resources received their requests or if there are delays in processing them.

A hospital staff scheduling solution should, ideally, have a single communication platform for administrators, nursing staff, and its management team. Nurses can use this software to make requests like shift changes; then, they can follow their requests on the same platform when management receives them.

Messaging on these platforms is also instantaneous, which means a nurse can send a shift request via text or auto-call and receive a response within minutes. Even in the unforeseen circumstances brought by COVID-19, playing an active role in their scheduling, and receiving timely communications about it can contribute to a certain level of peace of mind for nurses.

Hospital management also benefits significantly from centralized communication channels, as they help eliminate unnecessary administrative burdens and reduce operational costs.
Responsiveness to Last-Minute Changes
Increasing nurses' ability to manage their work schedules autonomously, with self-service tools, enables more agile responses to last-minute changes. Because nurses are actively involved in their scheduling, they no longer have to wait for manual management approval before making changes, which saves time and helps avoid schedule conflicts.

Responsiveness to last-minute changes prevents staff or skill shortages and helps maintain up-to-date schedules for everyone. The increased workload assumed by nurses across the country during the COVID-19 pandemic demonstrates the need for hospitals to develop agile responses to unpredictable medical situations. By increasing nurses' autonomy with their schedules, it becomes possible to ensure sufficient staffing levels, even during difficult times.
Improved Employee Satisfaction
Healthcare professionals tend to have higher job satisfaction when they feel their voices are being heard. The benefits discussed above clearly contribute to increasing nurses' satisfaction with their working environment through improved work-life balance, clearer expectations, and increased flexibility, which also hold true in a pandemic context. Nurses who play an active role in their scheduling are also more likely to adhere to their schedules.

In short, increasing nurses' scheduling autonomy can lead to increased satisfaction, enhanced productivity, more accountability, and an improved sense of organizational culture within hospitals and care institutions. In the nursing field, autonomy relates to the ability of a nurse to make operational and clinical decisions based on his or her experience and expertise. More importantly, there is evidence that "greater nurse autonomy [is] associated with lower mortality and failure to rescue rates" for their patients.
Learn More by Downloading our White Paper
Want to learn more about how to scale your scheduling operations, and reduce overtime costs and administrative work? We encourage you to download our white paper, Enhancing Nurse Scheduling Efficiency: Simplified Process for Stakeholders, to gain insights into ways your organization can improve its schedule management processes to the benefit of both staff and patients.