Choosing the Right Healthcare Scheduling Solution: 9 Considerations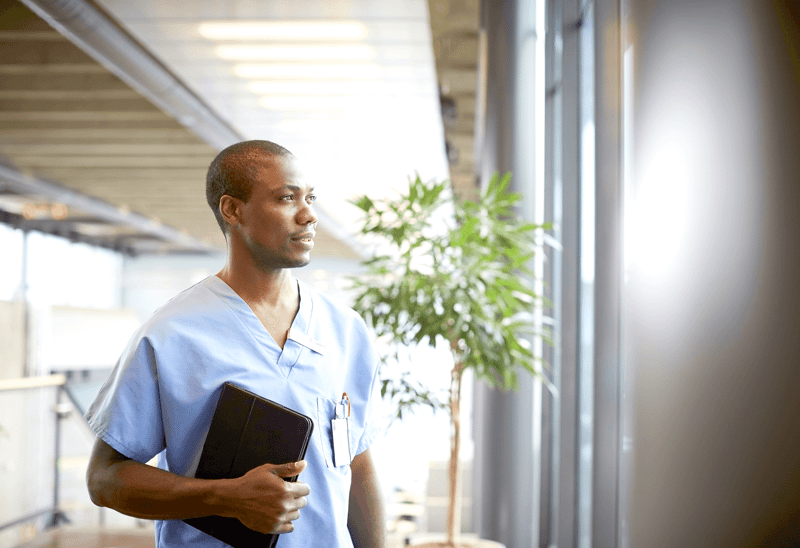 The article you are about to read was published before October 5, 2023, when LGI Healthcare Solutions was still named "Logibec". It is therefore possible that the text or certain images refer to the company's former branding, as well as the former naming of our solutions. Thank you for understanding.
Staff scheduling plays a central role in the management of Canadian hospitals' day-to-day activities. To this day, it is still a very conventional, people-driven process that relies mostly on manual labour. Digital technology is now offering practical new ways to optimize conventional scheduling processes. Discover some of the challenges that hospitals and care facilities may face when selecting new technologies.
1. System Interoperability
Interoperability in healthcare refers to the ability of different systems and devices to exchange and interpret clinical, administrative, and operational data. When integrating new technology in a care center to optimize staff scheduling, the challenge is to ensure that it works with a facility's pre-existing systems. A new digital scheduling platform should be able to exchange data with a hospital's IT structure seamlessly and present this information in a language and format that users are familiar with and can understand.
2. Update or Acquire New Technology
The objective of optimizing scheduling processes is to ensure the best care for patients by removing the burden of transactional work activities from staff. Hospitals might find themselves in need of assistance from a cloud-based scheduling system to optimize their staff scheduling processes. As old systems become outdated, they may no longer be compatible with new ones, which can affect their functionalities and the different IT systems that depend on them. Care facilities that hesitate between a system upgrade or integrating new technology should always consider the costs of incremental fixes against the benefits of acquiring a new software solution that could offer measurable cost-saving opportunities over time.
3. IT Support
A hospital carries out thousands of complex tasks and activities daily, and each one has to meet specific requirements in terms of record-keeping and results. Information technology plays a crucial role in the management of healthcare centers and their human resources. The optimization of processes by integrating a digital scheduling platform may temporarily increase the responsibilities of IT leaders; however, shortly after the initial optimization phase, scheduling processes should be significantly less demanding on both HR and IT departments alike.
4. Employee Adoption
Most nurses and other healthcare workers wholeheartedly welcome the integration of new technologies to help optimize their scheduling process. Some healthcare professionals, however, may still question the clinical value of such systems, be resistant to change for their own personal reasons, or be apprehensive about the consequences of this new technology. In such situations, detailed integration roadmaps, measurable goals, timely user training, and clear communication regarding the implementation and the different milestones reached can increase adoption, minimize resistance, and make the deployment process easier to manage.
5. Learning Curve
Most nurses and other healthcare professionals are not experts in technology. When adopting a new digital platform to optimize scheduling processes, a hospital's nursing, administrative, and management staff will likely need some tailored training to learn how the new technology works and become familiar with it. Over a short period, however, nurses and administrators should become proficient with the new system and start enjoying its underlying benefits.
6. The Costs
Day-to-day operations within hospital settings are highly cost-intensive. Care institutions are always working to keep their costs as low as possible while ensuring optimal delivery of care services. As a result, one of the challenges hospitals may face when optimizing their scheduling processes with technology is the budget. It's important to remember that a digital scheduling platform is designed with ROI in mind to save time and money for the institution that implements it.

7. Friendly User Interfaces
The objective of digitizing scheduling processes is to save time and to ensure compatibility across all operating units and departments. However, there are digital solutions that, unfortunately, don't have friendly user interfaces and make it difficult for employees to work and operate the system efficiently. In the end, the risk is that new problems are created instead of solving old ones as intended. Before committing to a new scheduling system to optimize scheduling processes, the selection process should ensure high usability in that all its staff can learn and use the interface within a reasonable time.
8. Well-Executed Implementation
Deployment of a new technology solution can sometimes seem challenging, as it requires precise business requirement gathering, as well as time and coordination with IT staff, unit managers, and all the employees involved in the scheduling process. With the right technology provider, however, the integration of a digital scheduling solution is properly planned, resourced, and executed. A professionally managed project enables hospital management and administration to stay focused on managing day-to-day operations rather than the implementation process itself.
9. Reliable Client Support
Post-implementation and beyond, it is common to expect available and reliable customer support to help users of the system adapt and overcome any challenges they face with their new investment. However, many companies report receiving poor customer service and a lack of expertise in solving problems after the implementation of the solution. As part of the selection process for a staff scheduling solution, organizations must take into great consideration the availability, response time, experience, and professionalism of the customer support team that will provide assistance after the hand-holding process of implementation.
There are a lot of new technology-driven solutions that offer practical new ways to optimize conventional scheduling processes. With so many options that started to emerge, hospitals and care facilities should have in mind these nine key considerations when selecting their technologies. There are a lot of new technology-driven solutions that offer practical new ways to optimize conventional scheduling processes. With so many options that started to emerge, hospitals and care facilities should have in mind these nine key considerations when selecting their technologies.
Learn More by Downloading our Recorded Webinar
Want to learn more about what motivated Canadian healthcare organizations to invest resources into implementing healthcare-specific staff scheduling solutions? We encourage you to download our recorded webinar, The Increasing Need for Healthcare-Specific Staff Scheduling Solutions, to gain insights into ways your organization can improve its schedule management processes to the benefit of both staff and patients.