Schedule Management: A Technology to Keep Costs Down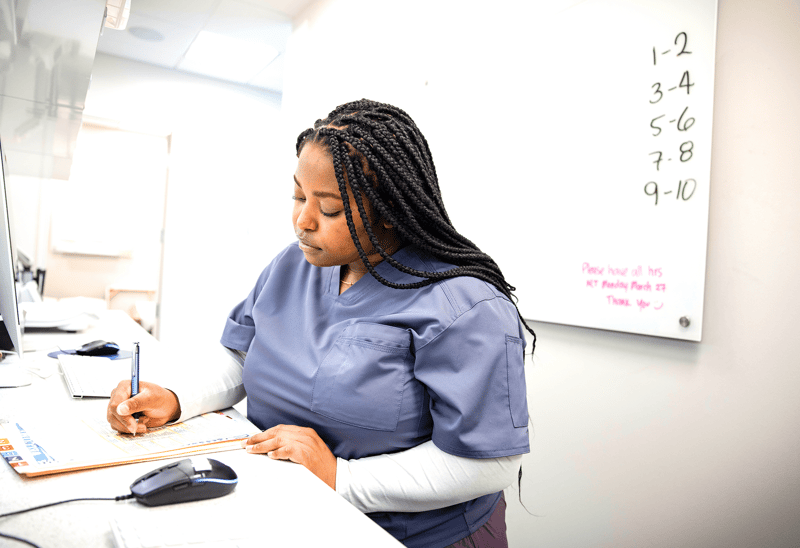 The article you are about to read was published before October 5, 2023, when LGI Healthcare Solutions was still named "Logibec". It is therefore possible that the text or certain images refer to the company's former branding, as well as the former naming of our solutions. Thank you for understanding.
The scheduling system that a hospital commits to has a direct impact on the administrative and operational costs that are generated downstream. Discover a few examples of how a hospital can benefit from transitioning to a digital scheduling solution.
For hospital managers, increasing the efficiency of staff scheduling processes is always a priority; however, it is only one item on a long list of critical administrative tasks that must be accomplished daily. With limited budgets and resources, many Canadian hospitals and care institutions have yet to migrate from paper-driven conventional scheduling processes to digital and automated scheduling environments.

Below are a few examples of how a hospital can benefit from transitioning to a digital scheduling solution to reduce administrative and operational costs.
Reduce Extra Effort
With conventional scheduling methods, a single person or team is usually responsible for drawing up nurses' schedules using paper or spreadsheets. Inefficient and prone to error, it's a costly and time-consuming process that requires schedulers to record change requests from staff by hand, and then publish the newly updated schedules manually.

When a hospital chooses to modernize its scheduling processes, administrative staff, and nurses can update and have access to schedule information without needing various methods of back-and-forth communication. All departments and units have real-time access to the main schedule and no longer depend on pen and paper for updates, changes, or amendments. Using technology at the center of staff scheduling can reduce the time spent on scheduling activities, which can, in turn, significantly reduce healthcare costs.

In short, scheduling process automation reduces required effort and assists hospitals in making effective use of finite HR resources by streamlining the scheduling process to lower administrative costs.
Increase Employee Productivity
In addition to saving on employee time and infrastructure costs, cloud-based scheduling solutions also help increase staff productivity by providing a better, more predictable work environment.

With manual scheduling, work schedules are a challenge to keep up to date. Scheduling errors that lead to over- or under-staffing are common with conventional scheduling methods and can result in frustration and increased administration costs. Traditional scheduling processes are often rigid, and nurses' schedules can sometimes be riddled with confusion and uncertainty. The risk for overtime increases and puts additional strain on nurses and potentially their whole department. With a streamlined, digital scheduling solution, staff schedules become reliable and easy to collaborate on, ensuring a smooth and productive employee work experience.

Improve Employee  Satisfaction
A sub-optimal scheduling system can result in overworked nurses and hospital staff who are left with inadequate help and resources to go through their shifts. Consequently, patients are on the receiving end; not getting the care and attention they are expecting may have them consider a different care facility the next time around. Improving healthcare staff scheduling allows for more efficient administration, which leads to employee satisfaction and better patient care.

Hospital staff scheduling may seem like a mundane administrative task to ensure an equal distribution of work amongst healthcare professionals, but it is critical to the success and operations of a hospital. Digital staff scheduling is a vital tool that can be used to optimize how a hospital manages its human resources and ensure a healthy, productive work environment for all healthcare workers. However, despite all the advantages and benefits of digital scheduling, some healthcare organizations and care centers are still hesitant about integrating these new scheduling systems. They foresee an expensive project with a steep learning curve and extensive system integration.

The reality is much different. Cloud-based scheduling systems are designed with users in mind and are built to integrate into a hospital's existing IT infrastructure. These systems will eliminate the pain points and costs associated with manual scheduling, increasing nurses' satisfaction in their workplace, and administrative staff's ability to adhere to operational budgets. In most cases, hospitals and care institutions realize quickly that cost-saving opportunities from digital scheduling processes far exceed the initial investment to acquire the technology.
Learn More by Downloading our eBook
Want to learn more about how to scale your scheduling operations, and reduce overtime costs and administrative work? We encourage you to download our eBook, Enhancing Nurse Scheduling Efficiency: Simplified Process for Stakeholders, to gain insights into ways your organization can improve its schedule management processes to the benefit of both staff and patients.